Sound and Movement Interaction Research and Artistic Workshop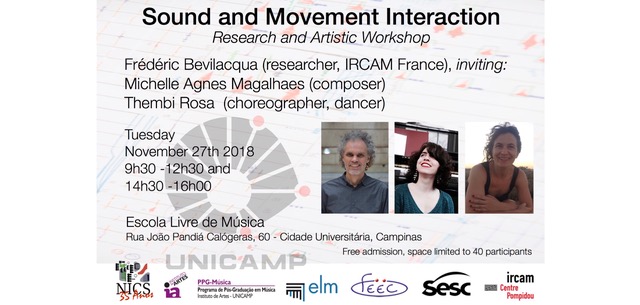 Tuesday November 27th starting at 9h30, Frederic Bevilacqua will present some of his recent research on movement capture and analysis, gesture-based musical interactive systems and collective interaction. He currently collaborate with two Brazilian artists, Michelle Agnes Magalhaes and Thembi Rosa, who will also present their works.
Frederic Bevilacqua is a leading researcher in the field of sound, music and movement interaction, from modeling to applications (music, dance, pedagogy, gaming, rehabilitation). He is currently head of the Sound Music Movement Interaction team of the Institut de Recherche et Coordination Acoustique-Musique (IRCAM) in Paris France. https://www.ircam.fr/person/frederic-bevilacqua/
Michelle Agnes Magalhaes is a composer whose music explores the limits between gesture and writing, composition and improvisation. Magalhães has been awarded fellowships, residences and commissions from Radcliffe Institute (Harvard University), FAPESP, Camargo Foundation, Villa Sträuli, Brazilian Culture Minister, Fondazione Giorgio Cini Venezia, Siemens Foundation. She is currently artist in resident at the IRCAM.
https://www.michelleagnes.net/
Thembi Rosa is choreographer, dancer and a CAPES/PROEX-funded doctoral candidate in Poéticas Tecnológicas at the Federal University of Minas Gerais (UFMG). She works since 2000 with Grivo and resident artists; and integrated Dança Multiplex and CasaManga. She realized interferencias Brasil, the Choreographic Coding Lab, CCL 7 with Scott deLahunta amongst various other artistic residencies. Her work has been presented in a variety of festivals in, amongst other places: Brazil, Portugal, Austria, Belgium, Mexico and Uruguay. www.dancamultiplex.com.br
Program:
09h30-10h45: Frédéric Bevilacqua
10h45-11h00: coffee break
11h00-11h45: Michelle Agnes Magalhaes
11h45-12h30: Thembi Rosa
12h30-14h30: Lunch
14h30-16h00: Hands-on workshops, using motion sensors and mobile phones as musical interactive systems.
Location:
Escola Livre de Música : Rua João Pandiá Calógeras, 60 – Cidade Universitária, Campinas